<![if !vml]>

<![endif]>
Kamal-ol-Molk
(one of the great Iranian artists 1847-1940)
Born in Kashan in 1226 A.H., to a family greatly attached to art, Mohammad Ghaffari, better known as Kamal-ol-Molk, was undoubtedly one of the most eminent artists in Iran. His uncle, Mirza AbolHassan Khan Ghaffari, known as Sanee-ol-Molk, a 13th century A.H. celebrated painter, was unrivalled in watercolor portraits. His father, Mirza Bozorg Ghaffari Kashani, was the founder of Iran's painting school and a famous artist, too. His brother, AbuTorab Ghaffari, was also a distinguished painter of his time. Mohammad developed an interest in calligraphy and painting from the early years of his life. In his childhood eagerness, he drew charcoal sketches on the walls of his room. Some of the sketches he drew in that very house may still be visible.
Upon completion of his primary education, Mohammad moved to Tehran. To further his studies, he registered in Dar-ol-Fonoon School where he studied painting with Mozayyen-od-Doleh, a well-known painter who had visited Europe and studied Western art.
He studied there for a period of three years during which the sparks of his genius ignited. Whenever he found some free time, he spent it on painting, strengthening his union with nature. Through his sharp vision, he could see secrets in lines and colors hidden from the common eye.
In his school days, the young Ghaffari was given the name Mirza Mohammad Kashi.
In this very short period of education he was able to attract public attention to himself as a talented artist.
Man of Genius
<![if !vml]>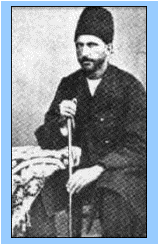 <![endif]>In his visits to Dar-ol-Fonoon, Nasereddin Shah Qajar came to know Mohammad Ghaffari and, having observed his incredible talent, he invited him to the court. Mohammad did his best to perfect his technique. Noticing his mastery in painting, Nasereddin Shah gave him the title "Kamal-ol-Molk (Perfection on Land)."
During the years he stayed at Nasereddin Shah's court, Kamal-ol-Molk created some of his most significant works. The paintings he did in this period, which lasted up until the assassination of Nasereddin Shah, were portraits of important people, landscapes, paintings of royal camps and hunting grounds, and different parts of royal palaces.
In this busiest period of Kamal-ol-Molk's artistic life, he created over 170 paintings. Unfortunately, most of these paintings have either been destroyed or taken abroad. The works he created in this period indicate his desire to discover the laws of oil painting. He advanced so much that he even acquired laws of perspective by himself and applied them to his works. His mastery in the delicate use of a brush was well as bright and lively colors distinguished him from his contemporaries.
Visit to Europe
Following Nasereddin Shah's death, Kamal-ol-Molk found it impossible to work under Mozaffareddin Shah. Therefore, he set out for Europe at the age of 47 to improve his art. The West opened a new horizon before the curious eyes of the artist. Discussions with distinguished European artists gave him the opportunity to know the ins and outs of their style and improve his own technique.
Kamal-ol-Molk copied some of Rembrandt's works. He recreated Rembrandt's famous "Self Portrait", "Jonah", and "Saint Matthew". These copies were so splendid, so enchanting that those who compared them with the originals were unable to tell them apart.
Kamal-ol-Molk visited most of Europe's museums and closely studied the works of some well-known artists such as Raphael, Titian, and da Vinci and copied some of their works.
He stayed in Europe for about four years during which he never spent a single moment in vian. He experienced, created and learned. In 1277 A.H., he returned to Iran.
Migration to Iraq
The increasing pressure on Kamal-ol-Molk, originating in Mozaffareddin Shah's court, left him no option but to leave his country for Iraq, in spite of all the affection he felt for Iran.
The visits he made to the holy cities in Iraq opened a new window to his creative spirit and great talent. The golden domes, turquoise minarets, mosques, holy tombs, long lines of pligrims walking round the holy shrines were all sources of inspiration for the artist.
"Karbala-ye-Moalla Square", and "Baghdad Jewish Fortune Tellers" are two of his most magnificent works of this period.
With the advent of the Constitutional Movement, after a two-year stay in Iraq, Kamal-ol-Molk returned to Iran and joined the Constitutionalists because of the harted he had developed towards Mazaffareddin Shah's government. Portraits like "Commander Asa'd Bakhtiari" and "Azad-ol-Molk" signify this period.
Kamal-ol-Molk Art School
The post-Constitutional Movement era brought about a new atmosphere for the artist. The Constitutionalists were cultured and appreciated art more than did their predecessors, thus respect for Kamal-ol-Molk and his work increased.
The master established Sanaye Mostazrafeh Art School, better known as Kamal-ol-Molk Art School, pursued his artistic career and steadied the new style in Iranian art.
The School's goal was to find new talents and educate them in the best possible way. Kamal-ol-Molk did not confine himself to painting. Rahter, he introduced other arts and crafts such as carpet weaving, mosaic designing, and woodwork to his school in order to revive the dying fine arts. In addition to teaching art, through his kind behavior he also taught students love, morals and humanity. Many a time he stayed late at school, teaching. He even allotted a portion of his monthly payment to poor students. In a relatively short time, Kamal-ol-Molk trained competent students, who became famous artists later on. The achievements of these artists received much attention both in Iran and Europe. Among them are Hossein Ali Khan Vaziri, Esmaeel Ashtiani, Ali Mohammad Heidarian, Mahmood Olia', Nemat-ol-Lah Moshiri, Ali Akbar Yasami, and Mohsen Soheili.
<![if !vml]>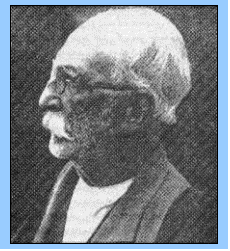 <![endif]>Seclusion
With the 1299 A.H. coup and Reza Khan's seizure of poer, Kamal-ol-Molk learned that the Pahlavi Dynasty was no different from the corrupt government of Qajar and refused to cooperate with Reza Khan Pahlavi.
Whenever Reza Khan encountered Kamal-ol-Molk, he tried to turn his attention to the court, but due to Kamal-ol-Molk's uncompromising stand on Reza Khan's government, he never succeeded. The nearer Reza Khan came, the farther Kama-ol-Molk moved away. When Reza Khan learned that he could not persuade Kamal-ol-Molk to cooperate with his government, he cut out his monthly payment and school expenses to force him to resign.
In Ordibehesht 1307 A.H., following his resignation, the great artist was exiled to Neishaboor and stayed in Hossein Abad, a village he had selected to do farming in. The man who had spent his entire life reviving the Iranian art and promoting the Iranian culture was exiled for the crime of love of freedom and independence.
Of the most important and unfortunate events in this period is that he lost an eye, the why of which is unknown to us. That is why, during the years he spent in exile, he never did any painting.
In 1319 A.H., Kamal-ol-Molk, the distingushed artist whose love of his country knew no boundary, died in Neishaboor. Mournful people marched his body to Sheik Attar's tomb where he would rest in peace.
Kamal-ol-Molk's Style
Kamal-ol-Molk founded a new style in Iranian art. Iranian painting before him and even in the early years of his life was quite different. In the Qajar era, and before the Iranian painting was limited to miniature. It should be noted that by referring to Kamal-ol-Molk's style as an innovative style, it is not intended to devalue painting in the past; rather it is meant to say that Kamal-ol-Molk in fact expanded the art of painting in Iran and opened new horizons to the painters succeeding him. It goes without saying that Iranian miniature is among the most valuable styles of painting in the world.
Kamal-ol-Molk's Famous Works
As is was said before, Kamal-ol-Molk received his education in Dar-ol-Fonoon. His love of painting helped him create some works during his school days. He also did some painting in the Shams-ol-Emareh edifice by thr order of Nasereddin Shah. During his stay in Europe he never spent an idle hour. In his visit to Iraq and during the years he taught in the art school he created numerous paintings. Unfortunately most of these paintings have either been destroyed or are in private collections and impossible to lay hands on. What will come here as his works include those kept in the former National Consultative Assembly, Golestan Palace, museums, and other centers.
If should be noted that, although he did some color paint works, his oil paintings are of a higher quality and consequently better known. He also did some sculpture, but his works in sculpture are overshadowed by his paintings. Among the paintings signed "Naghghash Bashi" (The Painter) are "Twin Waterfalls" painted in 1261 A.H. "Golestan Palace" (1262 A.H.); "Imameh Village" (1263 A.H.); "Bagh-e-Shah" (1265 A.H.); "Zanoosi Valley" (1265 A.H.); and "Government Camp" (1258 A.H.), the oldest painting signed Naghghash Bashi. "Golsmith", "Two Beggars Girl" and "Fortune Teller" all painted in 1268 A.H. are among his valuable works.
"Hanging Partridge" and the copies he made of European artists are among his most well-known works. But his masterpiece is "The Mirror Hall".
The Mirror Hall
The first painting he did after he received the title "Kamal-olMolk" was his magnificent masterpiece "The Mirror Hall". This is the first painting bearing the signature "Kamal-ol-Molk". "The Mirror Hall" was in fact more of a turning-point in Iran's art than a mere painting; a window to a new world rather than paint on canvas.
This exquisite painting is indicative of Kamal-ol-Molk's talent and creativity. In this work, the artist marvellously depicts all the delicacy and details of the vast "Mirror Hall" of Golestan Palace. In this lively spirited painting, Nasereddin Shah is portrayed sitting in the middle of "The Mirror Hall". The reflection of light and the shadow of the objects in the Hall in hundreds of pieces of mirror as well as the reflection of mirrors in one another are so delicately pictured that the beholder can do nothing but stand and wonder.
During a period of about six years (1264-1269 A.H.), he used all his creativity, stamina and talent to create the painting. A critic once said of the Mirror Hall:
"The delicate struvture of the painting resembles a miniature. Massive chandeliers, crystal prisms, begemmed chairs and tables, a carpet rich in designs, long wavy tulle curtains, tree boughs learning against the window as if whispering the wind's song into the Hall's ears are all reflected in the pieces of mirror, small and large, on the walls and ceiling. The golden rays of the sun have slipped on the magnificent carpet. Light and shadow are harmoniously mingled together to create a scene that mesmerizes the spectator".